INNOVATION BASED ON EXPERIENCE
Trust in our expertise as contract manufacturers
Our family has been processing dry foods for more than a century. We have been incorporating this knowledge about raw materials and how to process them into our contract manufacturing and recipes since Meitron Trockenmischung GmbH was founded in 1996.
As an OEM, we specialise in customer-oriented contract mixes and fillings for industry and stand for quality craftsmanship – also as a full-service provider for private label products. We now process all forms of dry food products, with the exception of spices, into high-quality food and supplements with commitment, expertise and care. From raw material procurement and storage to delivery, your product is in very good hands with us at all times.
The Meitron team
Mr Meierhans has a team of 50 supporting him in his day-to-day work. Our master craftsmen, technicians, traders and food experts are at your side during contract manufacturing, processing, contract packaging and logistics for everything to do with your food product.
Our network brings together expertise from the entire sector
Our family-run company combines experience, knowledge and technology
Great-grandfather Hermann Meierhans works as a manager at the dairy farm in Krefeld.
Grandfather Günter Meierhans follows in his father's footsteps
Father Thomas Meierhans starts working at the dairy farm in Krefeld and starts training to become a dairy master craftsman at Krefeld's dairy college.
Meitron Trockenmischung GmbH is founded by Thomas Meierhans in St. Tönis. Production begins on 150 square metres of space. The company moves to Krefeld in May and increased to 800 square metres.
Meitron builds new premises in Kempen with 2,000 square metres of space.
The distribution company Meierhans GmbH is founded under the management of Ingo Meierhans.
On 1st April 1st, the mixer for liquids is put into operation.
The production and sales areas are expanded to 7,500 square meters thanks to another site on Arnoldstrasse.
PV systems are installed in both plants, saving 200 tons of CO2 per year.
Meitron moves its headquarters to Arnoldstrasse.
Meitron is licensed to handle and produce baby food.
Meitron is licensed to manufacture, collect, transport and store gelatine and collagen.
You can depend on our certified contract manufacturing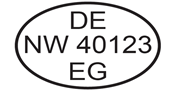 Approval as an EC food manufacturing company